The Ambassador of Cameroon, H.E IYA TIDJANI, participated at the 42nd session of the Council of Ministers of Foreign Affairs held on 27 and 28 May 2015 in Kuwait City.
The meeting, whose theme was the shared vision for the promotion of tolerance and the rejection of terrorism, was to adopt an effective strategy against terrorism, extremism and Islamophobia.
In his speech, H.A CHEICK SABAH AL-AHMAD AL-SABAH AL-Jaber, Emir of the State of Kuwait talked about the serious problems of security order facing the Muslim world and emphasized the need for collective action.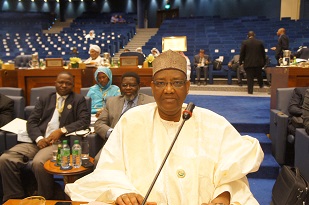 Cameroon delegation led by H.E ADOUM GARGOUM, Foreign Minister in charge of Cooperation with the Islamic World.
He also reviewed the grave situation of conflict in which the region is engulfed, stressing the importance of a peaceful solution and excluding any military option.
The outgoing president, the Foreign Minister of Saudi Arabia, H.E Adel Al-Jubeir, gave an account of his management of the 41st session of Council of Ministers of Foreign Affairs, and called for taking strong measures to counter the threat terrorist.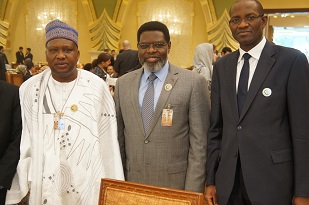 H.E IYA TIDJANI, Cameroon's Ambassador in Riyadh with his colleagues
In his welcome address, H.E Sheikh Sabah Khaled Al-Hamad Al-Sabah, First Deputy Chairman of the Council of Ministers and Minister of Foreign Affairs of the State of Kuwait expressed his gratitude for the confidence placed in his country and made tribute to H.E Saud Al-Faisal, former Foreign Minister of Saudi Arabia for his services to his country and to the Ummah.
The Secretary-General stressed the need for a new OIC strategy to combat the threat of terrorism and extremism. He also raised the issue of the rights of Muslim minorities in different parts of the world and stressed the importance of cooperation in economic, scientific and technological fields as well as in education and culture.
He also mentioned the reduction of poverty, micro-finance projects, youth empowerment and issues of rights and finally realized rights of efforts to finalize the new action plan OIC- 2025.
The Council unanimously adopted the "Declaration of Kuwait," which addressed the major issues of concern to the Islamic world.
The Republic of Uzbekistan will host the Council of Ministers of Foreign Affairs in 2016.