Following the railway accident occurred on October 21st, 2016 at ESEKA, in the Center region of Cameroon, a national day of mourning was instituted on October 24th by the Head of State, H.E Paul BIYA, in memory of the victims.
In Riyadh, Cameroon's embassy flags were flown at half mast and many Heads of diplomatic missions came to sign the book of condolences opened for the occasion.
They are the Ambassadors or representatives of diplomatic missions of:
Algeria, Australia, Argentina, Burkina Faso, Burundi, Brunei, Chad, Cote d'Ivoire, Democratic Republic of Congo, Djibouti, Ethiopia, Eritrea, Gabon, Gambia, Germany, Guinea, Indonesia, Kuwait, Lebanon, Mali, Niger, Nigeria, Palestine, Philippine, Singapore, Sri Lanka, Sudan, Uganda, Zambia.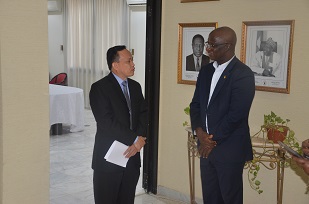 Ambassadors who could not get to the Embassy of Cameroon used the occasion of an official ceremony at the Saudi Foreign Ministry to express verbally to H.E. IYA TIDJANI, their sympathy to the Government and people of Cameroon.
They are: Austria, Benin, Brazil, Denmark, Egypt, Indonesia, Kazakhstan, Kenya, Kuwait, Korea, Maldives, Mauritania, Morocco, Mozambique, Myanmar, Nepal, Oman, Qatar, Senegal, Somalia, South Africa, Tanzania, Thailand, Tunisia, and Uruguay.