The 43th National Day of Cameroon was celebrated on May 21 in Riyadh during a reception hosted by the Ambassador of Cameroon, HE IYA TIDJANI, in the sumptuous gardens of the residence, in the presence of Prince Faisal bin BANDAR Governor Riyadh, several members of the diplomatic corps accredited to the Kingdom, many guests and the entire Cameroonian community in Riyadh.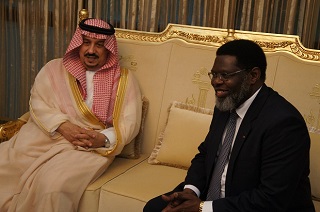 HE IYA TIDJANI and Prince Faisal bin BANDAR, Governor Riyadh.
Please click here to see all the photos
The evening was marked by the performance of national anthems of Cameroon and Saudi Arabia, the welcoming speech of the Head of the Diplomatic Mission, the cutting of the cake and the opening of Cameroonian dishes buffet.
A meal Corps organized by Colonel ABBA YAGANA, Defense Attaché of the Military Mission at the Embassy of Cameroon in Riyadh, was also held on May 24 in the presence of some African Defense Attachés and members of the Cameroonian community.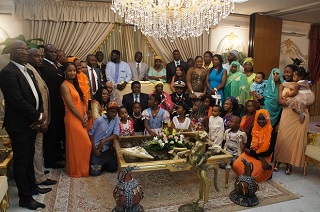 Cameroon Embassy Riyadh Staff and Family
Please click here to see all the photos