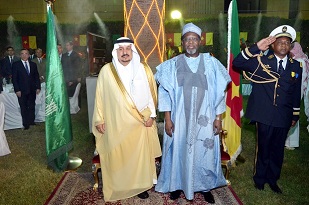 Ambassador IYA TIDJANI hosted a reception at his residence on May 23, 2016 on the occasion of the 44 years of the national unity of Cameroon.
Members of the diplomatic corps accredited in Riyadh, Cameroonians of the Saudi capital, numerous guests including the representative of the Saudi kingdom, Prince Faisal Bin Bandar Bin Abdul Aziz Al Saud, Governor of Riyadh Region, took part at the ceremony.
Please click here to see all the photos
The theme of this edition is "Defense forces and forces of the nation together in the fight against terrorism, preservation of peace and territorial integrity".
In his welcoming speech, the Ambassador said that Cameroon has been forced into a war against Boko Haram terrorist group but fortunately, it has resisted this attempt of destabilization and violation of its territorial integrity.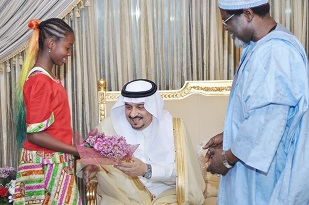 H.E IYA TIDJANI solemnly thanks all friendly countries which, through their supports, have demonstrated their solidarity in this fight.
A special gratitude of Cameroon government was extended to King Salman Bin Abdul Aziz Al- Saud and to international organizations as the Islamic Bank of Development, or Saudi Non Governmental Organizations, for the invaluable support expressed with Cameroonians by helping them to welcome distressed refugees.

As usual, after the execution of the national anthems of Saudi Arabia and Cameroon, and the cutting of the cake symbolizing friendship between the two countries, the guests enjoyed the Cameroonian and local dishes.

Please click here to see all the photos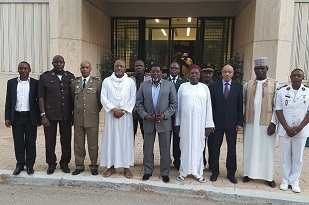 MILITARY MEAL
The celebration of the National Day of Cameroon continued on May 26, 2016 with the organization of a meal by the Military Mission of the Cameroon Embassy in Riyadh.
African military Attaches and members of the Cameroonian community took part at the reception held at the chancellery.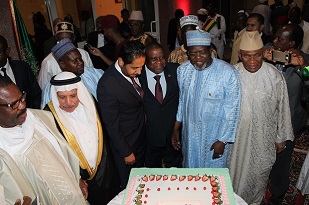 CAMEROON CELEBRATES AFRICA DAY
Cameroon took part at the commemoration of the Africa Day held on May 25th, 2016, at the Ethiopian Embassy in Riyadh.
The event organized for the 53th anniversary of the African Union was marked by the performance of anthems of the African Union and Saudi Arabia, the cutting of the cake symbolizing friendship between the two parties, the visit of handicraft stands and African national dishes.

During the event, visitors have enjoyed several Cameroonian dishes including braised fish, fried plantain or Koki.

Please click here to see all the photos, including celebration in Qatar