The Ambassador of Cameroon H.E Iya TIDJANI granted an audience to Mr. Lawrence ANDERSON, the new Ambassador of Singapore to Riyadh, on July 8th, 2013.
The two Heads of Mission have discussed the development of Singapore. The Singaporean Ambassador said that if his country had managed to grow without resources, Africa can do as much, if not more. He said that his government is available to share its development experience with Cameroon.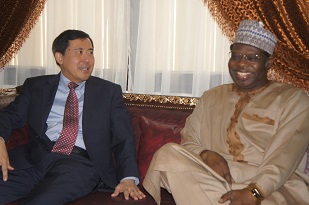 His country is already engaged in knowledge exchange through training in management, management of ports and airports, IT etc.. A training center has been opened for this purpose in Ghana and Botswana.

Having thanked his counterpart for his courtesy call, Ambassador of Cameroon in Riyadh promised to report to the authorities of his country all the opportunities for cooperation with Singapore.
S.N.N