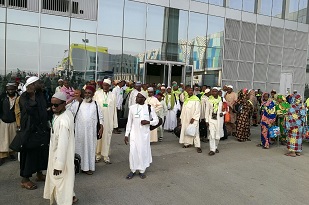 Almost the 3600 Cameroonians pilgrims registered to perform Hajj this year arrived in Madinah.
Ferrying pilgrims from mainly Garoua (2584 pilgrims) and Douala (1000 pilgrims) cities to Madinah was shared by Saudi carrier Nas Air and Cameroon's national carrier Camair-Co. The flights were scheduled from 24-31 august on 2 flights daily basis. Another 45 pilgrims will also accomplished pilgrimage with private companies as VIPs.
The Consulate General in Jeddah had deployed a team at Madinah's Prince Mohammad bin Abdulaziz International Airport to welcome pilgrims. In addition to the Mission's staff, 31 officials comprising medical team will take care of the needs and health of the pilgrims during their stay in the Holy cities.
Meanwhile this year decreasing quota is due the ongoing development works in Makkah and also to psychological hardship our country had experienced last year with the loss of more than 103 pilgrims during the Mina stampede.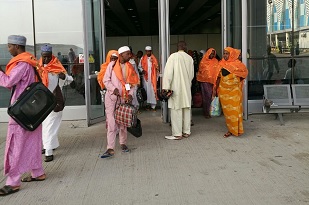 To ensure safety for this Hajj, the Saudi government had introduced new electronic bracelet to monitor pilgrims' movements all along Hajj activities. Containing personal and medical information, the e-bracelets will help authorities to provide care and identify people.
His Excellency Oumarou Issa, Consul General of Cameroon in Jeddah praised the new system and noted that the Cameroon National Commission of Hajj on its part, study positives and negatives of pilgrimage in past years to improve and insure smooth operations for this edition.
Flights back home are schedule to start on 02 October, which will let Cameroonians pilgrims to have a long stay of about 40 days in Saudi Arabia.