H.E. Iya Tidjani presented the copies of his credentials to His Highness the Deputy Emir Sheikh Abdullah bin Hamad al-Thani on 25th december 2016, at the Emiri Diwan Palace.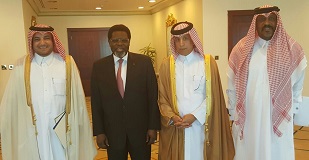 His Excellency Iya Tidjani conveyed to H.H the Deputy Emir, greetings from the President of the Republic of Cameroon, H.E Paul Biya and the best wishes of further progress and prosperity to the Qatari people. On his part, His Highness welcomed the new Ambassador of Cameroon to Qatar and wished him success in his missions and the best relations between the two countries further development and prosperity.
Bilateral relations between Cameroon and Qatar were opened in 1975 and the cooperation is ongoing in infrastructure sector and will be diversify soon with the drafting of several agreements projects related to the promotion of investments, employment, air services among few.
Also a dynamic Cameroonian community estimated at 2000 people lives and works in Qatar mainly in the fields of building and sport.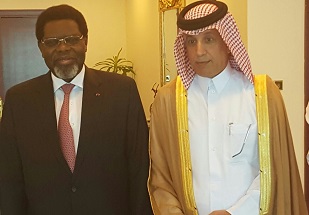 During his stay in Qatar, Ambassador Tidjani was received in audience by His Excellency Sultan Bin Saad al-Muralkhi, Minister of State for Foreign Affairs, and also had a working session with the Department of Cooperation With Africa. The Cameroonian diplomat as well as others colleagues received official reception ceremonies before the presentation of their credentials.
Cameroon's Ambassador Extraordinary and Plenipotentiary, Iya Tidjani, has been in Saudi Arabia for 8 years and has been accredited to Qatar and Kuwait last April 2016. He holds these functions cumulatively as Permanent Representative of Cameroon to the Organization of Islamic Cooperation.