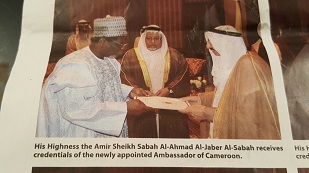 H.E.M IYA TIDJANI, Ambassador of Cameroon in Kuwait with residence in Riyadh, presented his letters of credence to His Excellency Ahmed Al-Sabah Al-Sabah, Emir of Kuwait, on Tuesday, 14 March.
The Kuwaiti Emir was assisted for the occasion by the Minister of Affairs of the Emir's Office, also known as Amiri Diwan, the Deputy Prime Minister, Foreign Minister, Amiri Diwan's Assistant Secretary, Cabinet, the Protocol Director of the Ministry of Foreign Affairs and the Commander of the Prince's Guard.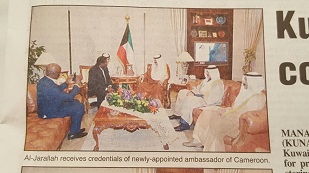 Before this meeting, on 12th March, H.E IYA TIDJANI presented the figurative copies of the credentials, by which President Paul Biya accredited him to the State of Kuwait, to deputy Minister of Foreign Affairs, KHALED AL – JARALLAH.
During this ceremony, the Deputy Minister of Foreign Affairs was accompanied by the Assistant to the Minister for Protocol Affairs, Ambassador DHARI AJRAN AL AJRAN, and Assistant to the Minister of Foreign Affairs, Director of the Office of Vice – Minister, Ambassador AYHAM ABDULATIF AL OMAR.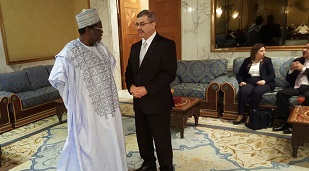 The presentation of credentials opens new perspectives for cooperation between Cameroon and Kuwait.
H.E.M IYA TIDJANI was appointed to the State of Kuwait by Presidential Decree No 2016/197 of 18 April 2016.